Our Linear Static Analysis Solutions
Design Optimization of a Bus Chassis:

The customer needed to optimize the weight of the bus body before launching it in the market. Finite element analysis was used not only to validate the existing design but also to reduce weight. The system was tested for various static and dynamic load cases.
Design Optimization of a Housing:
The customer wanted to optimize the wall thickness of a transformer component used to house various electrical components. The component was validated and optimized for static and modal load cases.
Design Validation of lower Control Arm:

An OEM of automotive components wanted us to analyze upper and lower control arms, which are critical components of suspension systems. The arms were validated using Inertia relief analysis using force extracted from mechanism simulation.
Thermal and structural analysis of inlet valve

Value engineering of a wheel used in defense vehicles:
In order to achieve a weight reduction without compromising on strength, the material of the wheel was modified from Aluminium. Both static and dynamic analysis were carried out and based on a comparative study modification was done.
Our Non-Linear Static Analysis Solutions
Nonlinear Contact Analysis of Automotive Leaf Spring: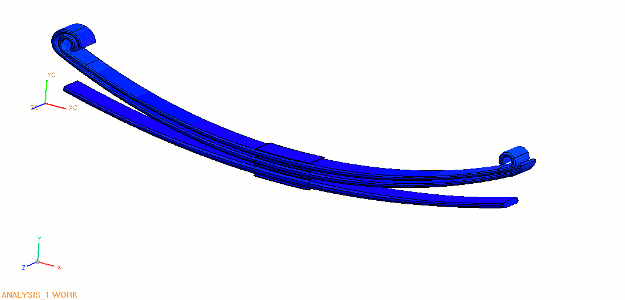 Manufacturer of leaf spring used in vehicles wanted us to establish process for finite element analysis of the component and bench mark it against the stiffness values obtained from physical testing. Overall, 95% correlation was obtained between testing and simulation.
Cornering and Radial Fatigue test of Wheels:

An OEM of automotive wheels wanted us to develop and validate process for fatigue testing of the component. Since high level of accuracy was desired, process incorporating detailed analysis was developed. Moreover, stress history incorporating various types of nonlinearity was used to accurately predict life of the component.
Creep Analysis of piping bend:
The client, a leader in heavy engineering, wanted us to estimate the effect of temperature and pressure on the bend at different times during its life. We conducted creep analysis to study the effect of time on stresses. The left image shows overall stress at the start while the right image shows equivalent creep stress after some time interval
Static and Dynamic Stiffness of rubber pads used for mounting engines
The client wanted us to establish the behavior of the engine mounts under static and dynamic loads. To obtain close results, hyper-elastic material model with appropriate element formulation and various other effects were incorporated. As a result, highly accurate results were obtained.
Fatigue Analysis of Transmission Gears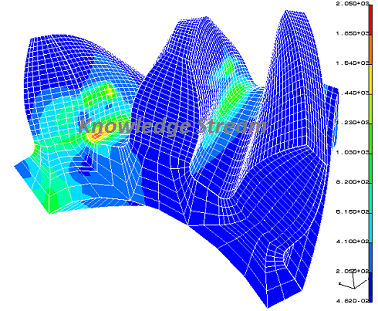 We have to do failure analysis of a bevel gear and pinion set. Motion Simulation and flexible body Analysis was done to determine the stress in the gear tooth.